Are you utilizing hashtags to get maximum exposure for your brand or client's Twitter account?
If you're not using hashtags, your content is going to sink into a sea of tweets. On the other hand, if you're using too many hashtags, your message is going to lose its value.
Here is a basic guide, on how to find and use the right hashtags on Twitter that are relevant to your client's audience.
Why use hashtags?
Hashtags are a handy way of grouping and categorizing tweets, and they help people follow topics in which they're interested. Anyone searching for a specific topic can find relevant tweets immediately rather than having to scroll through their Twitter feed.
Twitter's research found that tweets with hashtags increased engagement – clicks, retweets, favourites, and replies – for individuals and brands: Hashtags help people discover and engage with your content.
When should I use hashtags on Twitter?
You can use a hashtag whenever you're referring to a specific topic. For instance, you could use hashtags for:
Events: #NoChillDisembaa, #CarryGoDisembaa
Places: #Lagos, #Abuja
Themes: #MondayMotivation
Things: #Mac, #Food
Verbs: #Learning, #Teaching, #Working
Industry terms: #SocialMedia, #DigitalMarketing
When shouldn't I use hashtags on Twitter?
Don't use hashtags in your adverts if you're trying to drive traffic to your website. Twitter found that adverts without a #hashtag or @mention generate 23 % more clicks. Unsurprisingly, their best practice states:
Avoid #hashtags or @mentions in your copy so that your audience does not click away from your ad.
How should I use hashtags on Twitter
Here are three hashtag tips to follow:
You can use one or more hashtags anywhere in your tweet. Twitter recommends using no more than two hashtags per Tweet, but you're free to use as many as you wish.
Don't use spaces in a hashtag. For example, '#World Cup' would reference the topic of 'World' as opposed to '#WorldCup', which references the 'World Cup'.
Don't use punctuation in a hashtag. For example, #It'sComingHome won't work, although it's grammatically correct. Use #ItsComingHome instead.
Now you know the what, why, and when of hashtags, let's see how you can incorporate them in your posts.
How to find trending and popular Twitter hashtags
There's no point in using a hashtag if nobody is searching for it. To help you find trending and popular hashtags for your tweets, utilize these tools.
1. Twitter
The first place to check for trending hashtags is Twitter.
On the left-hand sidebar under your profile, you'll find a personalized list of the Top 10 Trends: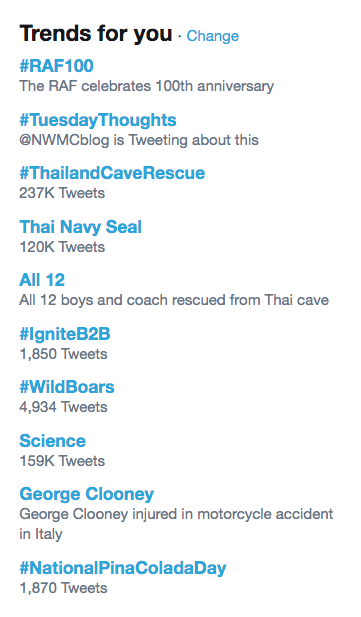 Note: some of these trends are topics rather than hashtags.
The trends are tailored to you based on your location and who you follow: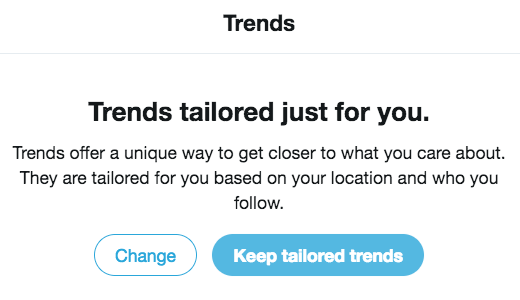 If you don't like what you see, you can click on 'Change' to select another location: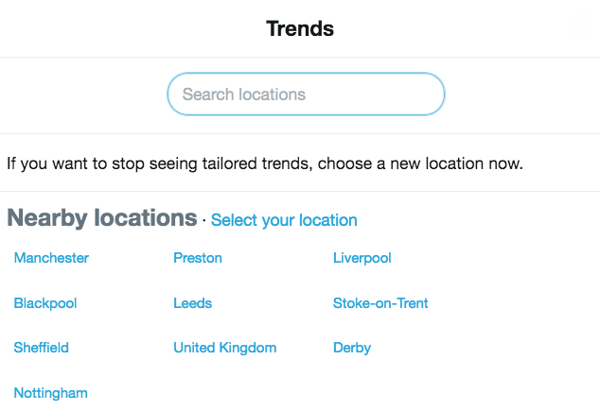 Pro Tip: The Twitter mobile app starts with the Top 5 Trends: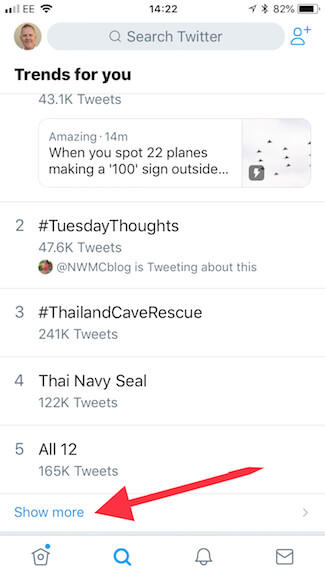 But you can tap on 'Show more' to reveal a list of the Top 20: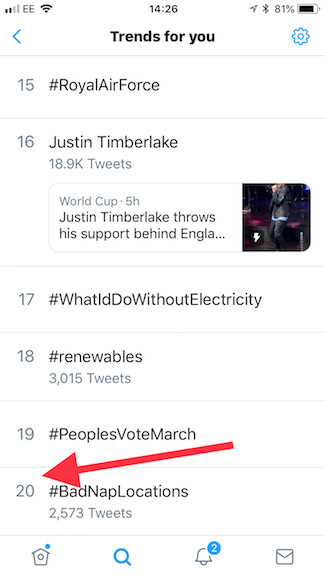 How to check the relevancy of your Twitter hashtags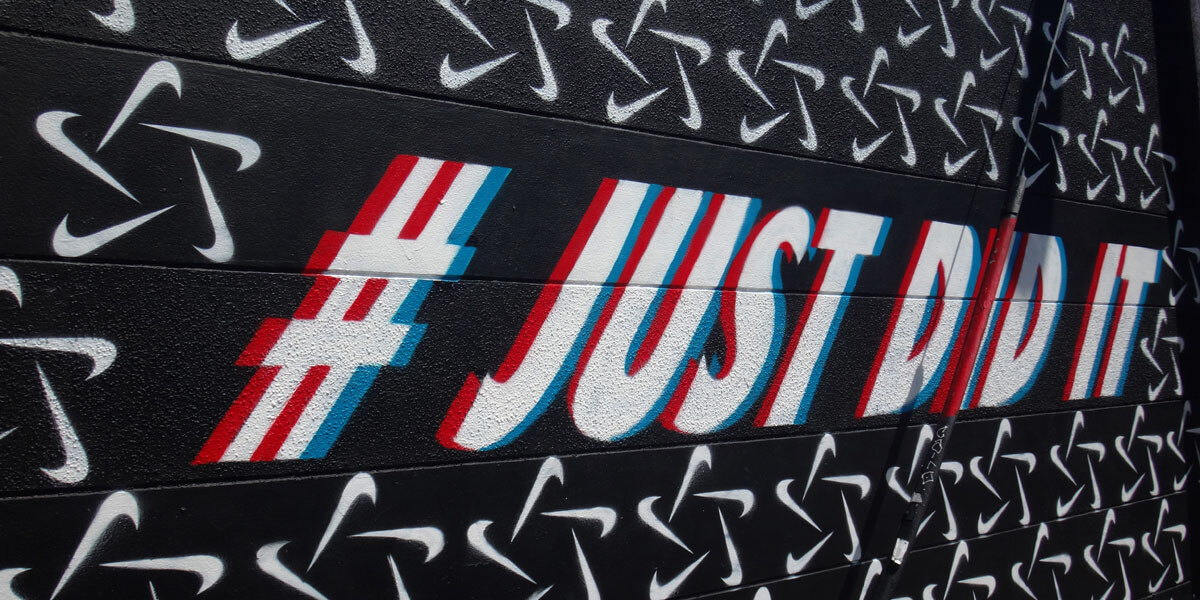 Forcing hashtags into your tweets to attract attention amounts to spam.
For example, if you choose to use a trending hashtag like #WorldCup, but your message and possible link have nothing to do with the FIFA World Cup, then you've gained the wrong attention and audience. Even worse, if enough people complain, Twitter might block your account. So don't go there!
In short, your hashtags need to be relevant to the content you're posting.
Here are three ways to make sure they pass the relevancy test:
1. Check the definition of existing hashtags
If you come across a hashtag, but you're not too sure what it means and whether it's relevant to your client's brand, then you could check the definition in TagDef.
For example, enter the hashtag #contentmarketing, and you'll see the definition below:

2. Check what hashtags influencers use
If one or more respected influencers in your industry or niche are using a hashtag, then there's a good chance it's relevant. But you can still make your own check.
Enter the hashtag in the Twitter search bar:

3. When creating your own hashtag
If you're working with a new brand, you might want to consider creating a unique hashtag that you can use in specific campaigns or long-term branding.
For instance, the slogan #JustDoIt is synonymous with sports brand Nike. But Nike also creates campaign-specific hashtags like #Breaking2, when they attempted to break the two-hour barrier for running a full marathon.
Incidentally, the hashtag was used more than 400,000 times, garnering more than 2 trillion impressions on social media.
Creating a catchy hashtag is an excellent way to raise brand awareness, but remember to follow these three steps:
Check if it exists – Make a thorough search on Twitter to ensure your proposed new hashtag does not exist already or has not been used previously in a negative way.
Consider the length – A hashtag needs to be snappy and memorable. Creating a hashtag from a long phrase won't deliver the desired results and there's more chance of it getting mistyped. Three words or less should be enough to convey your message.
Use capital letters – Twitter hashtags are not case sensitive, but using capital letters makes your hashtag more readable. Compare #socialmediamarketing and #SocialMediaMarketing. Plus, it also helps hashtags from being misinterpreted.
Wrapping Up
Hashtags are here to stay. They are so useful for identifying topics that you can't afford to ignore them. Make sure you're using relevant hashtags on your client's tweets to reach new audiences and boost brand awareness.